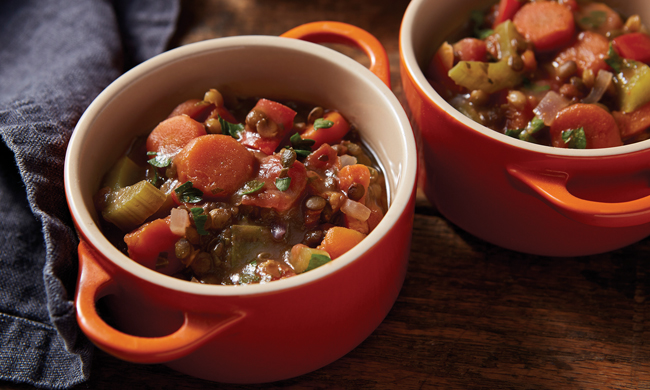 (Family Features) As the chill settles in, comforting, warming, seasonal favorites like stews and soups become top of mind. However, with busy work schedules, there's often not enough time to prepare them during the week.
When Carrot-Lentil Stew is on the menu, time isn't an issue. It's ready in under an hour, plus it's packed with healthy ingredients and robust flavor. Start with quick-cooking lentils, add nutrient-rich vegetables, vegetable broth and the secret ingredient: a jar of Aunt Nellie's Glazed Sliced Carrots. The perfectly cooked carrot slices and their flavorful sauce add texture, flavor and vibrant color to the stew, which needs only 10 minutes to cook.
Serve topped with fresh parsley and Parmesan cheese for another splash of color and an extra layer of flavor. This vegetarian stew can easily be adjusted to include chicken sausage for even more protein.
For additional cold-weather cooking ideas, visit AuntNellies.com.
Carrot-Lentil Vegetable Stew
Prep time: 20 minutes
Cook time: 25 minutes
Servings: 4
Rinse lentils and drain. Place in Dutch oven or other large saucepan. Add 2 cups broth and water. Bring to boil, reduce heat and simmer 15 minutes (lentils should be slightly undercooked).
Note: If desired, 1/2 pound chicken sausage links, cooked and cut into bite-sized pieces, can be added to stew during last 5 minutes of cooking.
Nutritional information per serving: 280 calories; 14 g protein; 54 g carbohydrate; <1 g fat; 390 mg sodium; 10 g dietary fiber; 5 mg iron; 0.46 mg thiamin; 5499 IU vitamin A; 36 mg vitamin C.
SOURCE:
Aunt Nellie's