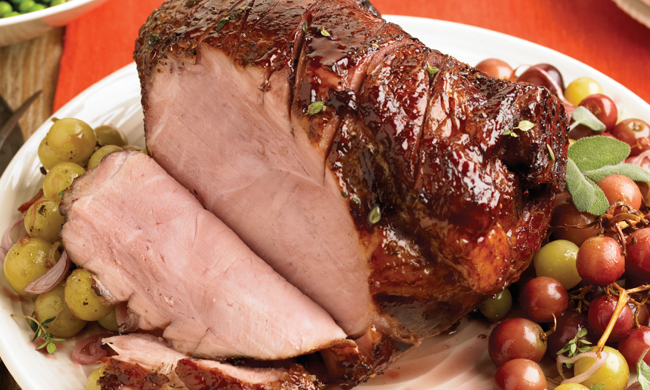 (Family Features) From savory starters and sides to a show-stopping main course, there are so many recipes to choose from this season. The secret to creating those hallmark holiday moments – the ones that leave us with delicious memories – is choosing the right dish.
Whether you're looking for the perfect recipe for the special holiday meal, an office potluck or a simple snack to warm up with after ice skating, these recipes are an easy way to elevate any moment with tastes you'll savor for years to come – and leftovers you'll devour the next day.
"Pork lends itself to a multitude of flavors and preparation methods, making it the perfect protein for any occasion," said Pamela Johnson, Director of Consumer Communications at the National Pork Board. "You can transform a classic ham with a simple glaze or mix up your starters by adding a nutty, Spanish-inspired sauce to tender pork meatballs – giving those traditional dishes everyone loves a special touch."
For more holiday recipes, visit PorkBeinspired.com, or try the interactive Pork Be Inspired Facebook bot that provides pork fans with great-tasting recipes. Just visit the Pork Be Inspired Facebook page, open Facebook Messenger and say, "Hi." The bot will respond by asking questions to help you find the right recipe. You can also uncover more inspiration from the National Pork Board on Instagram, Pinterest and Twitter.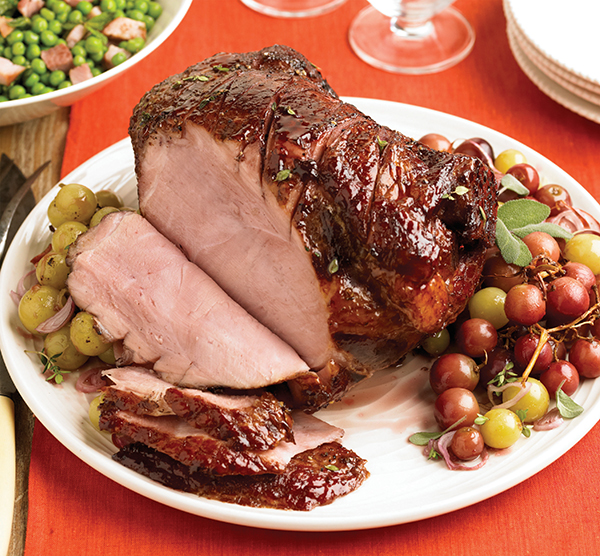 Thyme-Basted Ham with Roasted Grapes
Prep time: 20 minutes
Cook time: 2-2 1/2 hours
Servings: 15-20 (4 ounces each)
Preheat oven to 325° F. Position rack in lower third of oven.
In large shallow roasting pan, place ham flat-side down and score a diamond pattern about 1/8-inch deep into any fat. Season with pepper and bake 1 1/2 hours.
Meanwhile, in small saucepan over medium heat, combine jelly, butter and thyme, whisking occasionally until jelly and butter melt together and mixture comes to gentle boil, 1-2 minutes. Cover and set aside. In medium bowl, combine grapes and shallots. Set aside.
Baste ham with jelly mixture. Continue baking, basting with jelly mixture and/or pan juices about every 15 minutes. When ham's internal temperature reaches 120° F, add grapes and shallots to roasting pan, stirring to coat with pan juices. Continue baking and basting until internal temperature reaches 140° F, 15-18 minutes per pound. Remove ham from oven, transfer to cutting board and let rest 15-30 minutes. If grapes and shallots aren't tender yet, return roasting pan to oven.
Slice enough ham to serve and arrange on plates or platter. Season roasted grapes, shallots and pan juice mixture with pepper, and spoon some on top of ham. Serve remaining grape mixture on side.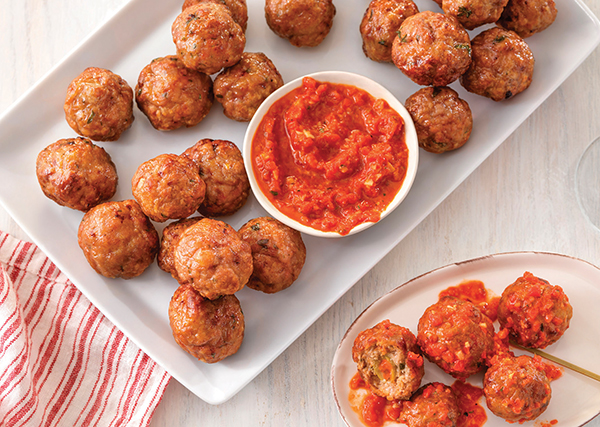 Stuffed Pork Meatballs with Romesco
Prep time: 20 minutes
Cook time: 25 minutes
Servings: 10 (40 meatballs)
Romesco Sauce:
To make Romesco Sauce: In food processor, drop garlic through feed tube to mince. Stop machine and add peppers, almonds, vinegar, paprika, oregano and salt. Pulse about 10 times until minced. With processor running, slowly pour oil through feed tube. Transfer to serving bowl. Makes about 1 1/4 cup sauce.
To make meatballs: Preheat oven to 400° F. Lightly oil large rimmed baking sheet. In large bowl, mix bread crumbs, egg, sherry, parsley, paprika, garlic and pepper. Add ground pork and mix thoroughly but gently with hands. Using about 1 tablespoon of meat mixture for each, shape into 40 meatballs. Stuff 1 olive in center of each meatball then completely enclose olive. Arrange meatballs on baking sheet.
Bake meatballs 15 minutes. Turn meatballs over and continue baking until cooked through and browned, about 10 minutes. Transfer meatballs to serving platter. Spear with toothpicks and serve hot with Romesco Sauce for dipping.
Note: Romesco sauce can be covered and refrigerated up to 5 days. Bring to room temperature before serving.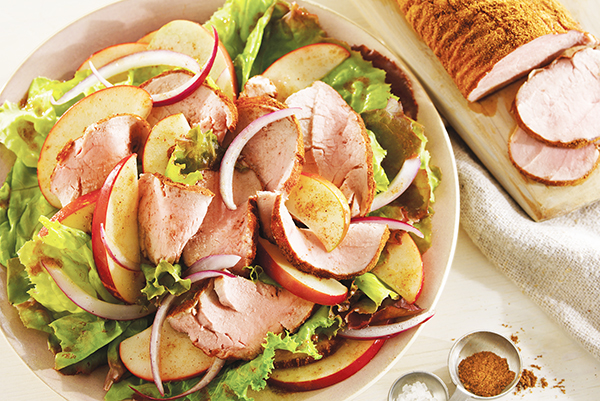 Five-Spice Pork and Apple Salad
Prep time: 10 minutes
Cook time: 20 minutes
Servings: 4
Preheat oven to 425° F.
Season tenderloin on all sides with 1 1/2 teaspoons five-spice powder, salt and pepper. Place tenderloin in shallow pan and roast about 20 minutes, or until internal temperature reaches between 145° F (medium-rare) and 160° F (medium).
While pork is cooking, core and thinly slice apple. Thinly slice onion.
While pork is resting, in large bowl, whisk together vinegar, oil and remaining five-spice powder. Add greens, apple and onion; toss. Season with salt and pepper, to taste, if desired. Arrange salad on plates or platter.
Cut pork into thin slices. Arrange on top of salads and serve.
SOURCE:
National Pork Board