(Family Features) Spice things up this season with some uniquely delicious recipe options that are perfect for most any meal occasion.
Serve Beet, Feta and Walnut Scones for brunch or as an accompaniment to soups or salads. Starting with Aunt Nellie's Pickled Beets cuts time and adds flavor.
Quick Sausage and German Potato Salad Skillet is on the lunch or dinner table in 20 minutes thanks to pre-cooked sausages and a can of heat-and-eat READ German Potato Salad.
Sides are easy, too. A jar of Aunt Nellie's Glazed Small Sliced Carrots is the main ingredient in this quick-to-assemble Spicy Carrot-Sweet Potato Casserole. If roasted vegetables are more your style, try Thyme-Scented Roasted Vegetables, accented with sweet, tangy pickled beets.
For more seasonal recipes, visit AuntNellies.com and READsalads.com.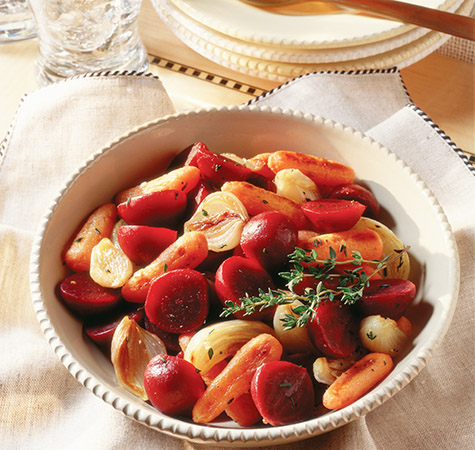 Thyme-Scented Roasted Vegetables and Beets
Servings: 4
Prep time: 20 minutes
Cook time: 30 minutes
Heat oven to 400°F.
Line 15-by-10-inch jelly roll pan with aluminum foil. Add beets, carrots, onion and shallots. Drizzle with oil; sprinkle with thyme, salt and pepper; toss to coat.
Roast, uncovered, 15 minutes. Add garlic to vegetables; toss well. Return to oven and continue roasting 15 minutes, or until vegetables are tender and lightly browned.
Note: 1 tablespoon chopped fresh thyme may be substituted for dried thyme leaves.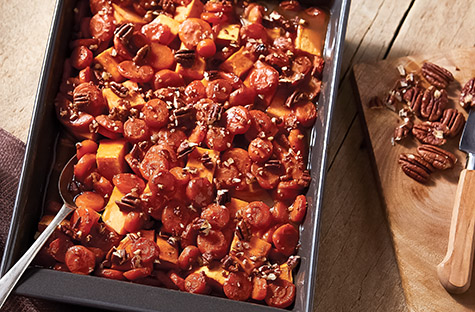 Spicy Carrot-Sweet Potato Casserole
Servings: 6
Prep time: 10 minutes
Cook time: 30 minutes
Heat oven to 350°F. In large bowl, gently stir together carrots with jarred liquid, orange juice, cinnamon, ginger and orange peel.
Spray 1 1/2- to 2-quart baking dish with nonstick cooking spray. Arrange sweet potatoes in dish. Pour carrot mixture over potatoes. Sprinkle with pecans.
Bake 30 minutes, or until bubbling and heated through. Allow to stand 5-10 minutes before serving.
Note: 1/2 cup chopped apples can be added to carrot mixture.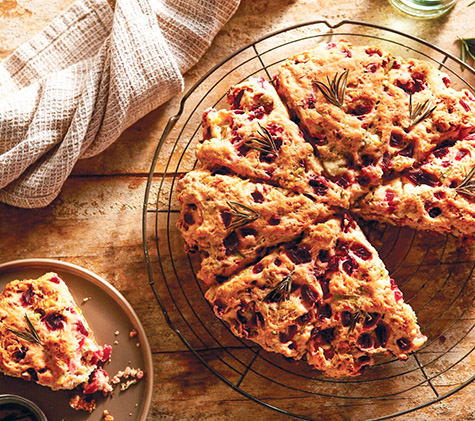 Beet, Feta and Walnut Scones
Servings: 8
Prep time: 25 minutes
Cook time: 20 minutes
Heat oven to 400°F.
Drain beets well. Chop coarsely; set aside on paper towels.
In large bowl, whisk together flour, baking powder, salt and pepper.
In small bowl, whisk together milk, oil and egg. Stir in onion, rosemary and garlic. Add milk mixture to flour mixture. Stir to combine. Gently stir in feta and walnuts, just until combined, then add beets and stir gently to combine.
Turn out onto lightly floured surface. Knead dough three to four times to smooth. Pat into 9-inch round on ungreased baking sheet. Cut into 8 triangles; do not separate. Lightly press rosemary sprigs into each scone.
Bake 20 minutes, or until light golden-brown. Cool on baking sheet; set on wire rack. Serve warm or at room temperature.
Quick Sausage and German Potato Salad Skillet
Servings: 4
Prep time: 10 minutes
Cook time: 10 minutes
2          teaspoons olive or vegetable oil
1          medium red or yellow onion, cut into 1/2-inch thick wedges
1          cup chopped red bell pepper
3/4       pound pre-cooked smoked chicken or turkey sausage links
1          can (15 ounces) READ German Potato Salad
1/4       teaspoon cracked black pepper
chopped parsley (optional)
In large skillet, heat oil over medium heat. Add onion and bell pepper. Cook and stir 1 minute. Add sausages; continue cooking 5 minutes until browned and heated through, turning occasionally. Remove sausages from skillet.
Add potato salad and black pepper to skillet. Stir to combine with onion mixture. Return sausages to skillet. Cook 2-3 minutes until heated through. Sprinkle with parsley, if desired.
SOURCE:
Seneca Foods